Bohemia Crystal Glass is a very important supplier of the highest quality crystal products made in the Czech republic. Our strength is in the complexity of products and related services that we provide. Almost all production of Czech Republic glassworks is included in our offer, which includes millions of pieces of products in stock for immediate shipment. You will find glassware for wineries, hotels and restaurants, products for the retail sector, and giftware for corporations.

In addition to the large range of products, we also offer complete services in the shipment of your merchandise. We can arrange small orders of several pallets up to large orders of several trucks or containers.

We take an individual approach to each customer that is guaranteed by the safe delivery of your ordered merchandise and all the services you need.

Bohemia Crystal Glass ships all around the world. Our largest markets are:

Czech Republic, USA, England, France, Germany, Russia, Austria, Slovakia, Egypt, Serbia, Estonia, Greece, Equador, Bolivia, Italy, Ireland, Hungary, Kazakhstan, Belgium, Norway, Poland, China, Malta, Jordan, Taiwan, Nigeria, Mongolia, Pakistan, Sweden, Spain, Portugal, Canary Islands, United Arab Emirates, Denmark, Georgia, South Korea, Netherlands, Switzerland, Brazil, Vietnam, Australia, Canada, South Africa, Israel, Bulgaria, Iraq, Japan, Andorra, Namibia, Peru, Romania, Chile, Hong Kong, India, Qatar, Ukraine, Croatia, Finland, Maldives, Kayman Islands, Lithaunia, Kuwait, Montenegro, Mexico, Armenia, Macedonia, Argentina, Nicaragua, Honduras, Guatermala, El Salvador, Costa Rica, Gibraltar, Saudi Arabia, Macau, Albania, Indonesia, Turkey, Laos, Angola, Colombia, Slovenia, Kyrgyzstan and others.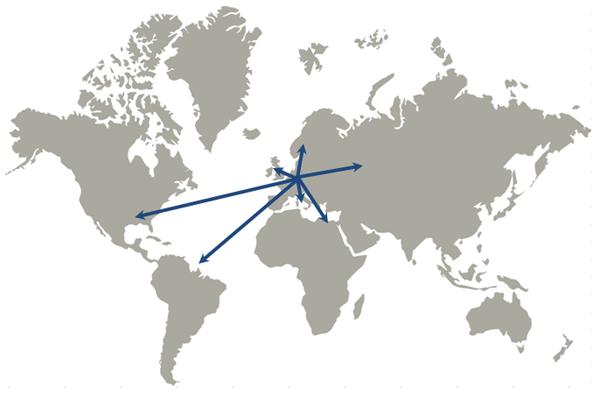 Our other strength is further glass processing. Our company cooperates with renowned glass-cutting manufacturers, where we supply products for finishing, whether it is a unique traditional Czech cut PK500, or the implementation of hand cutting and sandblasting according to cutomers specifications in almost any quantity.

With this type of cooperation and support from the Czech industry, we further promote the already high quality products of Czech republic crystal for real and complex CZECH REPUBLIC MADE product.

Working with us, you can be confident of the professionalism and complexity of products and services that do you don't get anywhere else! Feel free to contact us today! Contact us here.